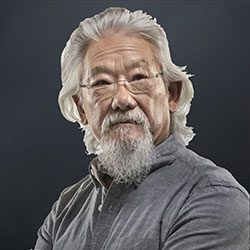 David Suzuki is an award-winning scientist, environmentalist and broadcaster. His radio and television shows, in which he explains the complexities of the natural sciences in a captivating and accessible way, have made him a household name. Join us at BCEI2023 to hear him talk about the need to redefine our priorities and take action in our work to meet the challenges of the 21st century.
Learn more
About
Canada's international education (IE) conference will take place this year at the Vancouver Convention Centre, situated on the traditional unceded territories of the Musqueam, Squamish, and Tsleil-Waututh Nations. With thought-provoking sessions, dynamic keynote speakers, and meaningful networking opportunities, CBIE2023 is the space for IE professionals from Canada and around the world to learn, connect and be inspired.
This year's conference theme is Our Shared Journey.
In an increasingly complex and interconnected world, the IE community plays a pivotal role in bridging divides and elevating unheard voices to advance global engagement that empowers all stakeholders. What does this mean in practical terms for IE practitioners and leaders? How do we respond to the challenges we face along our shared journey and collaborate in ways that ensure holistic, responsible and ethical approaches to our work?
Join us at CBIE2023 to explore how we can co-create a path for international education where together, we can drive progress toward a more just, sustainable, and resilient future for all.
Thank You to Our Title Sponsor
IDP is a leader in global education services. As an Australian listed company, IDP operates in more than 50 countries and its websites attract 100 million visits a year. IDP specializes in combining human expertise with a leading digital platform to help people get accepted into their ideal course, take an English language test or learn English in their schools. Our teams work side by side with their customers every day, at every step from course search through to starting their dream course or career. IDP's data insights are relied upon by organizations around the world to help ensure policies are informed by the diverse needs of students, the challenges they face, and their motivations for studying internationally. Most of all, IDP are proud of its people. It is their trusted people and processes that help their customers turn their study or English goals into a launchpad for their career.
Health & Safety
CBIE is committed to providing a safe and healthy in-person conference experience. Learn about what to expect at CBIE2023.
Learn More
Sustainability
Minimizing our environmental impact is a priority for CBIE. See how we plan to reduce our carbon footprint at CBIE2023.
Learn More